TIFFANY BUILT A SCHOOL FOR JUAN DURING SPRING BREAK.
 You can too.
Join the 7,000+ people who have volunteered with us on an 8-day service trip!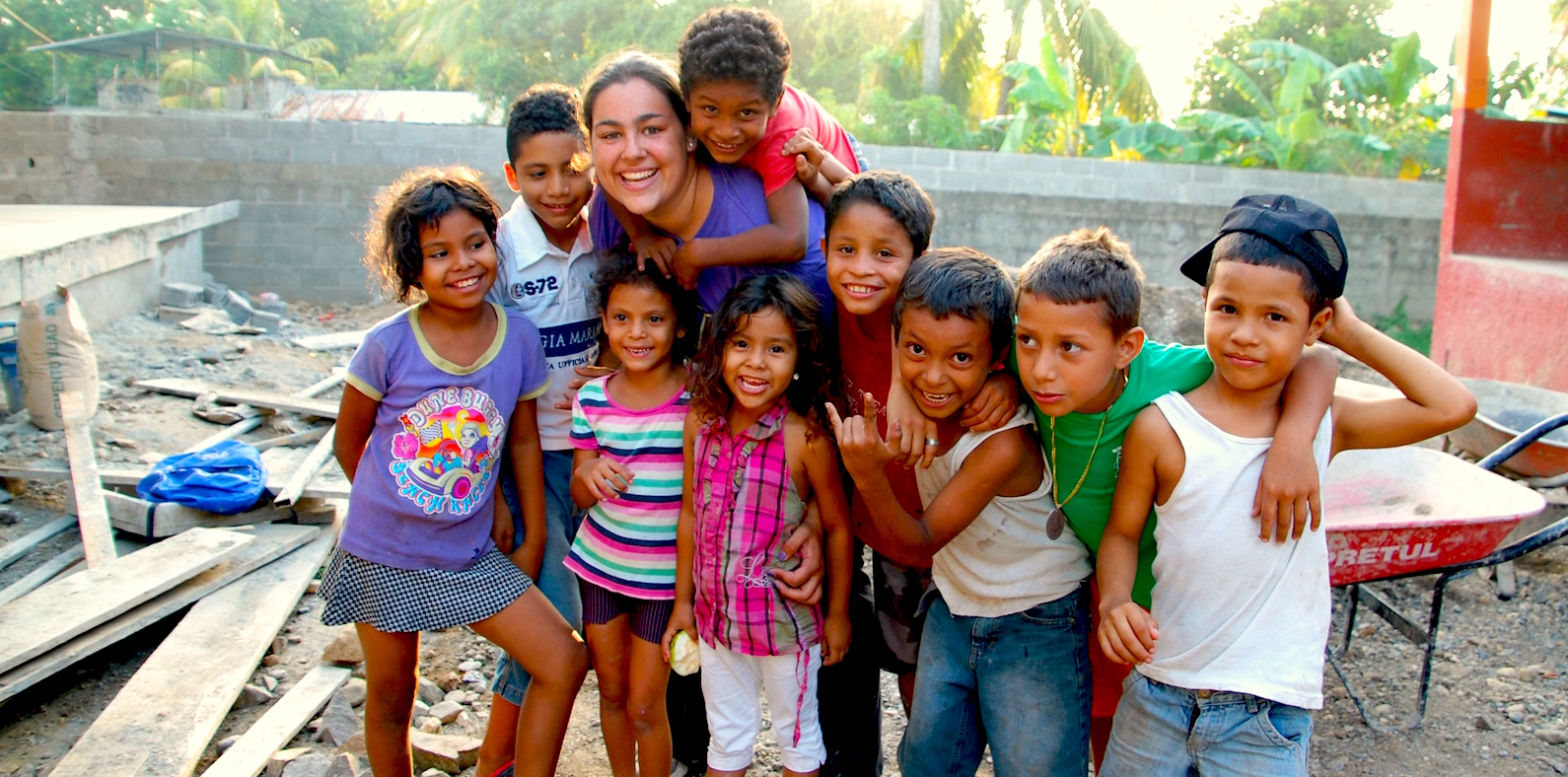 How an ordinary student built 2 schools in Honduras while studying full time in college
"Two years ago, I wanted to join a club at JMU, make a new group of friends and maybe help a good cause in the process. I found Students Helping Honduras at an involvement fair and signed up. Never did I think this organization would change my life.
Digna is a community leader and mother in the village of Delicias del Sur. During my first visit to Honduras, I was invited into her home to make baleadas. After a successful cooking session, we sat down to eat and she began to tell her story. Digna was born in Honduras but grew up moving throughout Central America to find a better place to live. She attended school for a year and was unable to continue. Digna walked barefoot to her mother's stand on the corner of the street every day, burning the bottoms of her feet, to help her mother sell goods to provide an income for her family.
She now lives in Delicias del Sur with her grandchildren, supporting the education program. She could not thank me enough for coming to her village and giving up my break from school to help children in her town have a better life.  Coming back to the village in the summer and seeing her again was like seeing long lost family.
She asked when I was coming back to Delicias and I told her I was trying to come in the winter if I raised enough money. I explained that I had an apartment and some other expenses I had to pay for; she looked at me and said "Don't worry you'll be back. I'll give you all the money I have so you can come back." Her humility and kindness left me speechless.
It is impossible to describe how I felt in that moment, or the moment the following year when I welcomed Digna's family to their new school in Delicias Del Sur. I will do the same thing in another village this coming winter in Señora Gudelupe. SHH at JMU just raised over $13,000 to make this school a reality and I cannot wait to see it completed in person.
The people of Honduras have touched my heart in a way I cannot describe, they have opened my eyes to see the world in a different way and I would not be the same person without those relationships. I challenged myself to go out of my comfort zone and I fell in love with an organization that I will hold close to my heart forever."  – Tiffany Comerford, James Madison University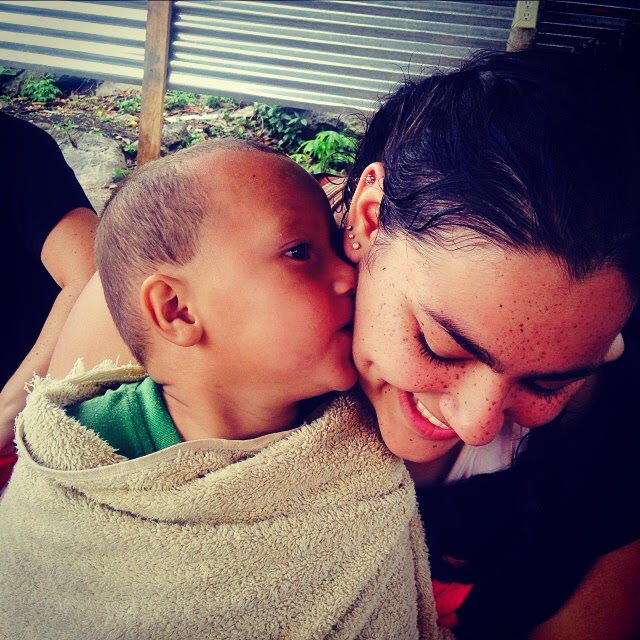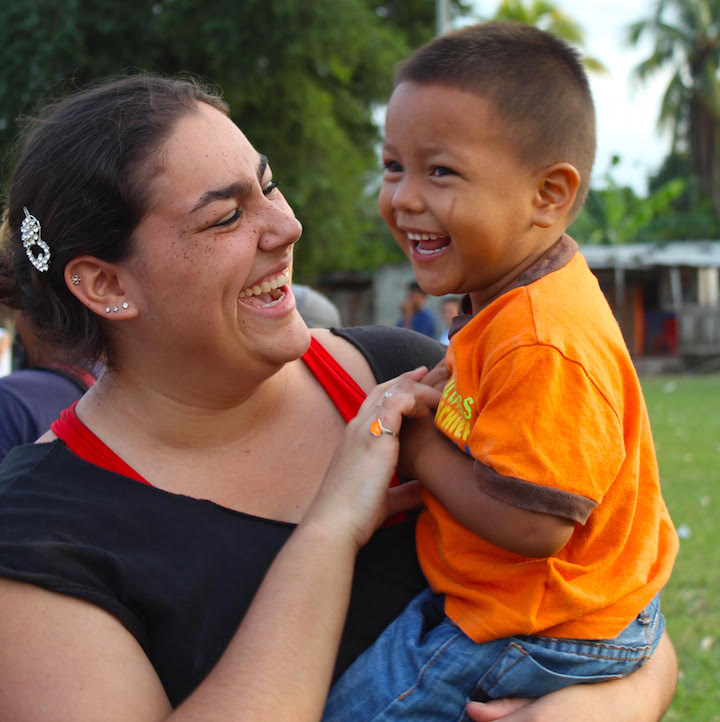 7,000+ have volunteered with us
What some of them have to say
"With everything organized for me, I could focus on why I was there in the first place to meet some awesome, inspiring kids and help give them the opportunity to excel in school and beyond!"

Vanessa Cedarbaum

University of Rochester

We learned how to mix cement by hand and lay cinder blocks for the school. Working alongside the masons and kids helped me learn more Spanish and gave me a truly life-changing experience.

Sarah

Towson University

"I never thought that I could have a tangible impact on the lives of others. Seeing those finished buildings lets me know that volunteers have been able to impact Honduras is ways we'll never fully understand."

Haley Cline

James Madison University

"At the end of the week we had the walls up of three beautiful classrooms. It was by far the greatest thing I had ever been a part of, and within 48 hours of arriving home, I booked my flight for a spring break service trip to build yet another school."

Colette Eustace

Stony Brook University

I had such an amazing time and cannot wait to come back.

Savannah

UC Davis

"The most amazing week of my life thus far. Looking forward to this winter's trip where we can build another school to work with yet another community in Honduras."

Shiori

Virginia Tech

I didn't have the heart to tell my mom how much I loved the Honduran food. Her meatloaf just wasn't the same after eating sweet mangoes, authentic baleadas, and fresh picked avocados in Honduras.

Sam

University of Maryland

This is an opportunity that everyone should take in their lives. I'll be back next January and years after that!

Randi

Mary Washington University

The days mixing cement and carrying buckets, nights full of soccer and salsa, the people that you love and laugh with, all create a truly unforgettable experience.

Emanuel

La Salle University
Why choose us?
8 reasons to replace your resort trip to cancun with a service trip to Honduras
Everything except airfare is included:
All lodging

All meals

All in-country transportation

Airport pickup

Airport drop-off

Pre-trip staff support

Orientation

Snacks

24/7 Purified drinking water

24/7 bilingual staff support
All construction supplies

All construction tools

Construction training

On-site translators

Private security

WiFi

Cooking class

Cultural activities

Trip to beach on the last day

An experienced Trip leader
What's not included:
Airfare
Round trip tickets to Honduras cost between $350 to $700. The airport you will be flying into is the Ramon Villeda International Airport in San Pedro Sula (SAP).
Health Insurance
We require our volunteers to purchase travel insurance from International Volunteer Card if they do not already have travel insurance. The cost of short-term medical insurance is usually $20 to $40. You will use your registration confirmation to verify you are a volunteer with SHH.

How can I get financial assistance?
Early Bird Discount:

Sign up at least 2 months in advance and get $100 off your trip.

Consecutive Week Discount:

Volunteer for two weeks and pay $1,025 (early bird) or $1,125 (regular). Volunteer for three weeks and pay $1,400 (early bird) or $1,500 (regular).

Recruitment Discount:

Recruit 5 new volunteers to come on a trip and pay only $375 for your trip. Apply here.

SUPER Recruitment Discount:

Recruit 10 new volunteers to come on a trip and get a free trip (not Including airfare). Apply here. 
Fundraiser Discount:
Raise $1,000 for a campaign and pay only $375 for your trip. Apply here.

SUPER Fundraiser Discount:

Raise $2,000 or more for a campaign and receive a free trip (not Including airfare). Apply here.

Chapter Founder Discount:

If you are starting an SHH chapter at your school, pay only $350. Limit one per school. Apply here. 
Remember

: 

Discounts

 cannot be transferred to another individual nor can multiple 

discounts

 be used for the same trip. 
Start raising money for your trip right away by sharing your personal fundraising page to the world
As soon as you register for a trip, you'll get your own personal fundraising page in your email. You'll share the link to family and friends via email, Facebook, and Twitter.
You'll be surprised by how much money you can raise in just a few days. Many volunteers fund their entire trip from their personal fundraising pages.
When going to college, I wanted the opportunity to make a difference in the world. However, international service trips offered by my university were totally out of my budget. Then I found SHH. Through the organization, I was able to fundraise for my trip and paid nearly nothing out of pocket on my first trip to Honduras."

Zach Hood

Wake Forest College
What about Safety & Security?
Your safety is our #1 priority.
 VOLUNTEERS ARE WELCOMED  FOR THEIR WORK AND CONTRIBUTION TO THE LOCAL ECONOMY
Most of the crime in Honduras happens in specific neighborhoods in Tegucigalpa, San Pedro Sula, and La Ceiba where we do not take our volunteers.

Our worksites are located in small villages outside of the major cities.
Tourists and volunteers are rarely targeted in Honduras, especially when traveling in groups.

Most of the crime in Honduras is directed towards those involved in the drug trade or gangs.

Crime in Honduras – and in just about any country – is localized in certain geographic regions.
10 REASONS WHY YOU WILL BE SAFE WITH US
24/7 Team leader

Approved work sites only

Internet and international phone access

Approved hotels & hostels only

Medical clinics within a 10-minute drive
24/7 group volunteering – you'll never be alone

Chartered vehicles only and trained drivers

Security briefing upon arrival

24/7 Private security

24/7 access to purified drinking water
Where will I stay?
Socialize late into the night, enjoy meals with new friends &
relax on a hammock in your comfortable lodge.
The Villa Soleada Guest House
Our volunteers will be staying in the Villa Soleada Guest House, a small, gated facility in the quiet village of Villa Soleada. The Villa Guest House has 32 beds, 10 bathrooms, 12 showers (two of them use rainwater), a large common room where volunteers eat and hang out together, board games, snack bar, private security, WiFi internet, 24/7 staff member, purified water, and more.
Helping the local economy
The Guest House provides valuable employment and job training opportunities for many mothers from the village, who would otherwise be unemployed. The income allows these mothers to send their kids to school, buy food for the family, and buy medicine during times of illness.
Where is it located?
The Guest House is located in the village of Villa Soleada, right next to our children's home. Villa Soleada is 50 minutes away from the beautiful Caribbean beaches of Tela, and 40 minutes away from the airport. Hospitals, clinics, pharmacies, restaurants, and supermarkets are located less than 15 minutes away in downtown El Progreso.
The Honduran cuisine
Our friendly staff members prepare delicious, local cuisine like Honduran enchiladas, fresh guacamole with lime, homemade chicken fajitas, and numerous vegetarian dishes. We can accommodate all diets including those who are vegan, gluten free or have religious restrictions.
Other hotels
If more than one group is visiting us during a given week, some of the groups will stay in one of the family-run hotels in the city of El Progreso. We only work with hotels that have a good track record, all basic amenities, and WiFi internet.
Sample Itinerary
Work hard building a school all day, enjoy a game of barefoot soccer in the rain, and dance salsa late into the night…
Day 1: Arrival in Honduras
Our friendly staff members will be waiting for you at the airport and drive you to El Progreso. You will spend the evening at your hotel with your fellow volunteers and relax. Dinner and orientation will be at the hotel.
Day 2: Project Visits
Visit our various projects in El Progreso to meet the families and children. For lunch, learn to make a typical Honduran meal with a local family. Depending on the weather, we may play a fun game of soccer in the afternoon against a local team. There will be a group activity in the evening.
Day 3-6: At the Worksite
After breakfast in the hotel at 8am, work from 9am to 5pm at your worksite. You will work side by side with fellow volunteers, professional masons and family members from the community. There will be plenty of opportunities for you to practice your Spanish & spend time with the kids. Lunch is served at the worksite. There is usually an optional barefoot soccer game in late afternoon. After dinner in the hotel, your trip leaders will guide you through our global development programming, reflection and cultural activities.
Day 7: Field trip to Caribbean beaches of Tela
Relax on the Caribbean beaches of Tela, just 50 minutes away from El Progreso. Some of the families and children will accompany us on the trip. There will be a goodbye party in the evening.
Day 8: Airport
Time to go home. Our staff members will be taking multiple trips to the airport.
Who else will I be working with?
By the end of the week, we are family. 
Group Volunteering
Eat, Live and Work with 15-50 fellow volunteers from all over the world during your eight days in Honduras. Sometimes, we have multiple groups working in multiple villages during the same week, up to 350 volunteers could be on a trip at the same time.
Where are our volunteers from?
Most of our volunteers are from the US, but others have traveled from Thailand, Japan, South Korea, Belgium, Germany, Singapore, France, Ethiopia, China, Spain, Puerto Rico, Argentina, Bangladesh, Colombia, Venezuela, and other countries.
What is the age range of volunteers?
The  average age of our volunteers ranges from 18 to 25 years, but high school students, professionals, and families join us as well throughout the year. We welcome volunteers of all ages and backgrounds!
"At the end of the week we had the walls up of three beautiful classrooms. It was by far the greatest thing I had ever been a part of, and within 48 hours of arriving home, I booked my flight for a spring break service trip to build yet another school."

Colette Eustace

Stony Brook University
Your Downtime Activities
Impress your friends back at home with your newly learned salsa skills
After a long day of hard work, you'll spend time in the community and go through a crash course on Service Learning.
This is not a vacation – we are here to start a movement!
"With everything organized for me, I could focus on why I was there in the first place to meet some awesome, inspiring kids and help give them the opportunity to excel in school and beyond!"

Vanessa Cedarbaum

University of Rochester
Our Trip Leaders
Your trip leader will guide you along and keep you pumped
Highlighting a few of our trip leaders
Emerson Ayestas
Emerson is a Honduran-American motorcycle lover who lives in Fredericksburg, Virginia. He has been to Honduras multiple times since his childhood and hopes to get more time off from work so he can lead multiple trips each coming year. He graduated from the University of Mary Washington.
Zach Hood
Zach graduated from Wake Forest University and is a talented ukulele player. He is a free-lance photographer and loves the TV show Breaking Bad. Since 2011, he has been a part of nearly ten service trips to Honduras. The bonfires with the children are always more memorable if Zach is there to play his ukulele.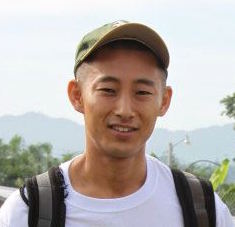 Hey there!
My name is Shin Fujiyama. I am the founder of SHH. I live in Honduras, like to play soccer, and visit my parents back in Virginia once a year.
At some point in our lives, we have a year that changes everything. For me, it was the year 2004. That year – as a broke college student – I had gathered up the courage to sign up for something that I had always wanted to do.
Like everyone else, the anticipation of traveling abroad made me nervous. And I wasn't quite sure how I was going to pay for everything either. But I wrote some letters and raised the money. It was time to start packing for my first volunteer trip abroad!
The destination happened to be Honduras. And that experience changed everything.
If someone would have told me that year that I'd have started a nonprofit organization with thousands of volunteers by the time I would graduate from college, I wouldn't have believed them.
I never thought I'd be running a home with 21 amazing and hilarious kids. I never dreamed I'd be a CNN Hero and get interviewed by Larry King. I never imagined I'd be building schools across northern Honduras as a full-time job.
My friends from my dorm were the first ones to join me in Honduras. In a few years, over 4,000 young people from all over the world had joined us.
You're probably just as nervous and excited as I was before my first trip to Honduras. But you have nothing to worry about. Our team and I do our best to show you that short term volunteers can make a tremendous impact, and have the experience of a lifetime.
Waiting for your arrival,
Shin Fujiyama
Founder & 2009 CNN Hero
Trip Dates 2018
*If you would like to organize a trip outside of the scheduled dates for a group of ten or more volunteers, contact us at trips@shhkids.org.
"I never thought that I could have a tangible impact on the lives of others. Seeing those finished buildings lets me know that volunteers have been able to impact Honduras is ways we'll never fully understand."

Haley Cline

James Madison University
Post Registration Information
Get Health Insurance
The Department of State strongly urges Americans to consult with their medical insurance company prior to traveling abroad to confirm whether their policy applies overseas – which is the case only rarely.
Uninsured travelers who require medical care overseas often face difficulties. For example, many foreign hospitals require payment in cash prior to providing service.
It is also good to be covered for travel mishaps such as lost luggage, or an emergency trip back home. You must purchase an affordable, short-term traveler's insurance card from Volunteer Card  if you are not already covered. The most affordable plan is only $29.
SHH is not responsible to help pay for any medical expenses. Please make sure you have an emergency form of payment like a credit card for such expenses.
WHAT TO BRING
PASSPORT and photocopies! Triple check to make sure you have it, and that it is valid for AT LEAST 6 months after the date you are to return to the US.
We encourage bringing crisp,new cash in small bills and only to use an ATM card in an emergency. ATMs are notorious for information theft.
Sunblock (you may need two bottles of sunscreen and remember that the sun is stronger here so the more spf the better)
Bug spray (Deep Woods DEET)
Work gloves
Backpack or something to carry items daily
Needed medication
Towel
Toiletries (Shampoos, soaps, lotions, razors, deodorants, toothbrush, toothpaste, contacts, glasses, etc)
Water bottle/Nalgene
After-burn aloe
Camera
Journal and something to write with
English/Spanish dictionary
Snacks that you might want to bring
First aid kit – (Pepto/Immodium, Tylenol and other pain killers, Benadryl, Cortizone/anti-itch cream, Neosporin, Dayquil, Nyquil)
Rain gear
Hand sanitizer
Wet wipes
Watch
Small lock for lockers
MORE
6 days worth of work clothes to get dirty in! There is laundry at the hotel, so pack light.
Old sneakers and/or work boots
Bathing suit
Flip flops for showers and walking
Hat
Sunglasses
Sweatshirt/light jacket for cool nights
Semi-dressy outfit for a night out in town
Lightweight pants/shorts
T-shirts (exposure to the sun is actually the biggest problem so consider light materials that cover you up)
Socks and underwear
Soccer cleats if you would like to play
DONATIONS
If you have extra space in your suitcase, consider bringing elementary level books, school supplies and used soccer equipment for the children we work with.
Click here to see a complete list of items that are specifically requested.
Book your own flight with a travel agent or through popular websites such as Kayak, StudentUniverse, Orbitz, Travelocity, Expedia and CheapFlights. Make sure your final destination in Honduras is San Pedro Sula (airport code SAP). To maximize your time in Honduras, try arriving early on the first day and leaving later for your departure flight. You should arrive on the first day of the trip date and leave on the last day of the trip date. Due to the complicated logistics of hosting volunteers outside of our trip dates we are unable to host anyone before or after the trip. If you decide to book your flights arriving before or after the trip dates you are 100% responsible for your own safety, accommodations and transportation. If you have no other option but to arrive early, you can email us at Trips@SHHkids.org to organize a meet-up location on the trip start date.
After you purchase your ticket, give us your flight information here: Flight Information Form
The deadline to submit your flight form is 14 Days before the start date of your trip. After the deadline, a $50 late fee will be issued. This is to ensure the safety of volunteers and guarantee SHH staff will pick volunteers up from the airport.
If for unavoidable reasons you must arrive before or after the set trip dates, there is a fee of $50/ day to cover accommodations. Questions? Please E-mail info@studentshelpinghonduras.org.
If for some reason a change occurs DURING your trip (i.e., you miss a connection), please call us at 011-504-9637-3088 and email us at trips@SHHkids.org to inform us of these changes.
After you arrive, you will go through immigration, baggage claim and customs. This process is sometimes lengthy but the airport is tiny and easy to navigate. When you leave customs with all of your bags, SHH staff members will be waiting for you with a big sign. Once everyone on your bus shift arrives, you will go to the hotel to relax. If some of your bags do not arrive, your airline company will give you a slip. Our staff members can pick up your lost baggage later in the week.
We understand that plans change, things come up, emergencies happen, so we try to be as flexible with our volunteers as possible. However, we also put a lot of time and resources into planning for your trip, so when you cancel last minute it is often times at a cost to us. Therefore we have the following policies regarding cancellations that we believe are the most fair for our volunteers and the organization's budget.
Apply for a refund here and please be sure to include your registration information, including your fundraising page, billing address and transaction IDs.  Once we've received your request, we'll process your refund (if you qualify for one) and send you a confirmation within couple of days.
We do not consider you registered if you haven't put down your deposit. Therefore if you select Pay Later when you register and do not put down your $150 deposit then you can cancel at anytime. Remember that to get early registration discounted rate you have to put down your deposit to qualify.
If you cancel after putting down your deposit (more than a month before the trip, see below) we are unable to refund the $150 but it can be transferred to a future trip. You must re-register before the early registration deadline in order to get the discounted rate.  Putting down your deposit on an earlier trip doesn't qualify you for the discounted rate without the registration.
Unfortunately if you cancel less than 1 month before your trip you will not be able to use your deposit for a future trip*. Once you put down your deposit we expect that you are coming on the trip and therefore we dedicate resources towards preparing for your arrival. We will have to use that deposit to recoup the expenses made in preparing your spot. If you register for another trip then you will have to put down another deposit.
Frequently Asked Questions
We try to answer as many of your questions as posible. If for some reason, you're unable to find the specific question, please feel free to email us at Trips@SHHkids.org or call us at 631-505-3744.  We'll be more than happy to assist you!
Q: How do I create a user account with SHH?
If you are ready to register for a trip you can go to www.shhkids.org/trips and register for your trip. A few minutes after registering you will be sent an email with your username and password.
Q: Can donations made on Fundraising Campaigns go towards my volunteering trips?
No.  we strictly use our campaign funds towards our projects.  Any donations made towards your fundraising page or a project campaign are NOT transferable towards your trip.  However, upon registering for a trip, you'll be provided with an option to create a fundraising page for your trip as well.  Feel free to share your trip Fundraising page with your friends and family and raise funds for your trip.
Q: What is the policy on cancellations?
Please see our Cancellation Policy section above.
Q: Is my trip tax-deductible?
Yes. The IRS states that you can claim a charitable contribution deduction for travel expenses necessarily incurred while you are away from home. Since the trip fees cover necessary lodging, meals and construction site expenses you can deduct the full amount you paid towards the trip. Also, 100% of your airfare is tax-deductible! We recommend consulting your accountant or tax advisor before filing but this IRS document may help for those that file by themselves. Click Here.
Q: Can I arrive before or depart after the trip dates online?
Please purchase a flight to Honduras on the EXACT DATES of your trip. If you come early or leave late, you are responsible for your own safety, transportation and accommodations.  SHH charges a $50 fee per day for hosting volunteers for extra dates.
Q: Will the internet or international phone calls be available?
Yes. You will have internet access at the hotel, but it will not be all the time.  You can also make international phone calls from any Honduran cell phone with a local phone card for a few dollars. Getting an account on Skype is a good idea. Prepare to disconnect!
Q: What if someone from my home country needs to get a hold of me while I'm in Honduras?
Each group will have a leader with a cell phone. You can send that number to friends and family once you arrive. Before your arrival or on the day of, anyone can call us at +504 9637 3088 if they have an emergency.
Q: Where will we be staying overnight?
The majority of our volunteers stay in the Volunteer Lodge in Villa Soleada. The lodge has 24/7 security as well as all the necessary amenities including wireless internet and a laptop to share. On larger trips part of the group may stay at a hotel in El Progreso, such as Hotel La Cascada, a secure and gated hotel comprised of numerous air-conditioned cabanas. No matter where you stay laundry service is available.
Q: Where can we get water while down in Honduras?
SHH will provide purified water 24 hours/day during the trip. If you want to buy your own water, you can purchase purified water for about two Lempiras (ten cents). Please bring a water bottle to Honduras.
Q: Should we bring food on the trip?
If you have certain dietary needs, feel free to bring food on the trip. However, there is a large supermarket in town where you can buy anything from exotic fruits to Captain Crunch Cereal. Most people bring energy bars or other snacks and carry them in their backpacks.
Q: How will we be traveling during the trip?
SHH has its own bus and works with a professional bus driver who is available 24 hours during the trip.
Q: What would I be spending any extra cash on?
You may spend money on snacks, drinks and souvenirs during your trip. Most souvenirs, such as wood carvings, paintings, and handbags might cost around five dollars. Bring small denominations of crisp cash.
Q: Is it safe to bring equipment such as laptops, digital cameras, and iPods?
Many volunteers bring electronics with them to Honduras. If you leave your gadgets in your hotel room, you shouldn't have any problems. You will have access to a computer and WiFi at the hotel. We encourage you to leave as much as you can at home.
Q: What is the dress code in Honduras?
Most people in Honduras wear clothes similar to what people wear in the US. Hondurans almost always wear pants and rarely wear shorts. But don't worry, Hondurans are quite used to seeing Americans in shorts, tank tops and flip flops. It's a good idea to dress modestly while traveling.
Q: Do we need to speak Spanish to go on a trip?
Absolutely not! We provide translators 24 hours a day during the trip. There will be a good mix of non-Spanish speakers and fluent speakers in your group of volunteers.
Q: Do we need a visa to travel to Honduras?
For US citizens, a visa is not required. However, travelers' passports must not expire for at least 6 months from the date of entry into Honduras. People from other countries may or may not need a visa to enter the country. Please check with the Honduran Embassy before departure. A good website to find out more on visas to Honduras is honduras.visahq.com.
Q: What do I do if I get sick or injured?
The first thing you should do if you get sick or injured is to tell a staff member. If necessary, a staff member can take you into town to purchase the needed medication or visit a local clinic. We also recommend taking a morning or afternoon off from the construction site if you are feeling particularly weak or dehydrated. For minor injuries, a first aid kit will be available for trip participants' use at all times.
Q: What happens if I lose my passport?
Each participant is required to bring two photocopies of their passport to Honduras, one for him/her and one for the SHH staff. In the case that a passport is lost, you will be brought to the US Embassy in Tegucigalpa where they will ask for a copy of your passport and possibly a copy of your birth certificate (which would have to be mailed from the US). This could take up to a week, so be sure to avoid this situation by keeping your passport in a safe place in the hotel.
Q: What should I do if people ask me for money or gifts?
SHH prohibits participants from giving monetary gifts to the communities that we work with. This is because we do not want to create dependency or instigate conflict in the community due to preferential treatment of (or toward) and any one individual. If you choose to give a gift (for example, for a child's birthday), we ask that you consult with an SHH staff member before doing so.
Q: Am I allowed to bring a pet on the trip?
No pets are allowed on SHH service trips. The only exception is guide-dogs or assisted-living pets.